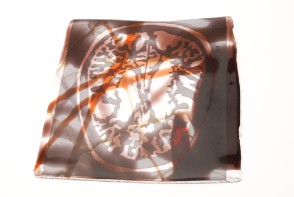 Statement

Throughout my working career, I pursued an interest in arts and crafts via a variety of adult education classes. I discovered a love of glass through a course in stained glass and this inspired me to research further studies which led to the Design Crafts degree course at De Montfort University and then to a Masters in Glass at Sunderland University.
My specialism is printing on glass. The gallery images from my exhibition "To Prove I'm Not Forgot" - are an exploration of the technique of printing on glass using collages of family photos, painting and sandblasting. This work is informed by my peripatetic childhood in the Far East as the daughter of a soldier, my career as a social worker and family photos and memorabilia
"Postcards to my Family" was my final project for my MA which I completed in 2013. It is an interpretation, in glass, of a technique of grief counselling whereby the bereaved is encouraged to re-establish a relationship with the deceased. It was inspired by the discovery of some old postcards that I found amongst my mother possessions after her death. Narrative exploration is used in bereavement counselling and in the modern world it is a procedure which often replaces more traditional mourning rituals. One is encouraged to express feelings of all types including hurt, fears and any unsaid issues to the deceased person by writing to them. Original photographs and personal messages are used.
In between more complex projects, I make beaded and fused glass jewellery and Christmas decorations some of which are shown here.

Education
2011 - 2013 MA in Glass at Sunderland University.
2008 - 2011 Design Craft (BA Hons) De Montfort University, Leicester.
2006 -2008 Foundation Course in Art and Design, De Montfort University.
Exhibitions
May 2010 All Manner of Wonders, Pedestrian Arts, Leicester.
June 2011 Degree Show, De Montfort University, Leicester.
November 2011 - January 2012 Open 23 at Leicester New Walk Museum.
July 2013 M A Final Show at the Biscuit Factory, Newcastle
October 2014 Cank St Gallery, Leicester
June-Oct 2018 Eight Church Square, Market Harborough
Jan - Feb 2019 International Mental Health and Wellbeing Postcard Show,

Surface Gallery, Nottingham
Current Exhibition!
I am part of Art House 2019 from Friday 7 - Sunday 9 June at 46 Holmfield Rd, Leicester